You see, not all of the best motorcycle helmets are created the same. One way or another, there are helmets out there that can provide substantial protection to your head than the others.
Of course, it is essential to know what these helmets are. But more than that, riders like you and me are quite compelled to understand the mechanism about helmet safety ratings.
By doing so, we can become more equipped in choosing our headgears.
Motorcycle Helmets: Why Are They Important?
Today, helmets are essential parts of every motorcycle rider. We have strict traffic rules already that punish those people who don't wear the basic motorcycle gears when hitting the road.
As professional riders, we don't take offense to this as it is for our own benefit. A helmet, on its own, proves to be the most crucial equipment that a rider should secure. Each year, there are thousands of road casualties occur because of the absence of adequately constructed helmets.
Not wearing has proven to be fatal.
But even a poorly made motorcycle helmet can also send you on a bad trip. You can get injured in any part of your body and not die. But a slight concussion in your head is already alarming.
You can sustain highly deleterious brain damages if your head gets impacted without protection. According to the National Highway Traffic Safety Administration (NHTSA), there are 5,286 motorcyclists that have died on the American roads in 2016.
Among them, 41% is due to intentional disregard of the proper use of a helmet. On the flip side, it has been reported by the same agency that 1,859 motorcycle riders survived fatal crashes due to these helmets.
Furthermore, it has been emphasized by the NHTSA that wearing a helmet reduces head injuries during collisions by almost 70%. Surprisingly, it can give you a 37% chance that you won't die in a road accident while riding your motorcycle.
At this point, it is pretty pointless to argue if helmets are useful or not. If they are not functional, then I would not have written all of these things in my blog.
They are not just for styling, even though my carbon fiber helmet is pretty cool looking. They are there to ensure your optimal safety while you are traversing the roads with your favorite bike.
Motorcycle Helmet Safety Ratings
To further optimize the safety of motorcyclists, the Department of Transportation (DOT) of the United States has crafted a safety guideline that would assess if a particular helmet is safe to use or not.
Just like what I have mentioned, not all helmets out there can offer a safe level of protection to their users.
While it is true that we can't dissect these helmets, we are still given the opportunity to know their quality by checking some crucial factors.
The Role Of DOT
The Department of Transportation is not the agency that tests the helmets that are being produced by the manufacturers. It is completely opposite to the common misconception that a helmet has to be submitted first to DOT for inspection and testing before it can be released in the market.
But sure enough, the DOT has a more important role to perform. As a government body, it holds every manufacturer accountable for their helmets and other motorcycle gears.
Specifically, they mandate these helmet producers to test their own product and see if it fits the guidelines that DOT has set. They want these helmets to be continuously refined until such time they can meet the standards for safe motorcycle riding.
Things like field vision, impact negation, penetration resistance, and field vision are among the things that are being tested on these helmets. There are several batteries of tests that are being conducted to ensure that these features are properly integrated into the gear.
Specifically, the standards given by the DOT is under the name of Federal Standard FMVSS 218. You can know if a helmet has met this particular qualification if there is a DOT sticker that has been patched in any of its parts.
Comparing Motorcycle Safety Ratings:
DOT FMVSS 218
Surprisingly, the DOT FMVSS 218 is the most basic among all the safety ratings being given to motorcycle helmets. One good reason for this is that the standards given by DOT are at best, minimum.
Any manufacturer can easily pass their test, and that's something that we have to think about. Furthermore, it has been suggested that DOT only does random sampling whenever they are inspecting helmets. T
herefore, they encounter difficulties in catching the bad ones. But does this mean that DOT standards are unreliable?
No. Absolutely not. Just like I said, the standards of DOT have the merits of making your head safe in cases of accidents. If you are given the opportunity to choose between a helmet with DOT rating a helmet that doesn't have it, you should go with the former.
After all, a series of drop tests that involve predetermined settings are included in the DOT FMVSS 218 safety standards for helmets.
Furthermore, the DOT standards also require a series of penetration tests to assess the overall structural integrity of the gears. In fact, despite the qualms of many motorcycle riders, the DOT prides for its rigid testing.
It has separate qualifications for the retention system, penetration resistance, and field of vision. It even has its own criteria on how manufacturers should put labels on their helmets.
Furthermore, the impact test requirements of DOT FMVSS is downright rigorous. Probably, that's one of the reasons why there are several helmets out there that don't have a DOT sticker even if they are seemingly durable and rigid.
But here's a caveat. There's actually one potential downside that the DOT FMVSS 218 has. Among the motorcycle safety ratings, the DOT FMVSS 218 can be conducted by a third-party agency. Independent testing companies can be hired by the issuing manufacturers to see if their designs don't have any flaws.
If you are a company that gets paid for these testings, you would surely give passing results to the helmet in the hope that you can get extra patties in your contract. Fortunately, there are still no scandals as of yet that affirms our worries about the testing integrity of DOT FMVSS 218.
PROS
Use high-energy testing schemes
Known to utilize hemispherical anvils (two hits per specified helmet part)
Technicians are allowed to hit the helmet in any part and any given coverage
Ensures a decent maximum energy transfer of 400 g (peak)
CONS
The random testing actually harms the integrity of the tests; people think that some issued helmets did not pass at all
It has a limit on the number of the head forms utilized in the test
Tests that don't pertain to energy management are absent (no test in optics, removability, and other essential helmet features)
ECE 22.05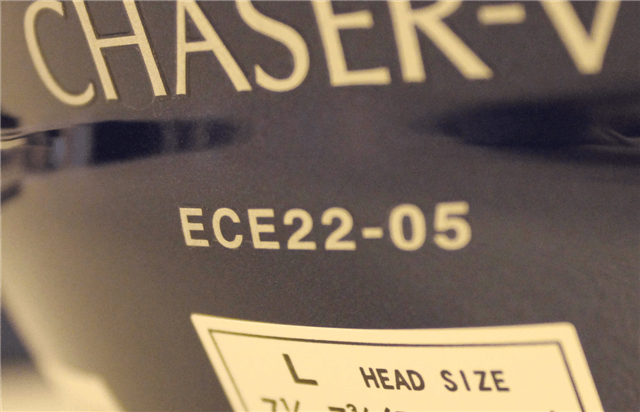 The ECE 22.05 is another motorcycle helmet safety rating. Compared to the conventional DOT FMVSS 218, the ECE 22.05 is relatively younger when it comes to implementation.
However, it guarantees more comprehensive and rigorous testing mechanisms to commercial helmets. Of course, if you are motorcyclists residing in the United States, there's a good chance that you haven't heard of the ECE 22.05. Well, that's because the latter did not originate here in America, but instead in Europe.
ECE stands for Economic Commission for Europe. It is a multi-national standard rating that is being applied by more than fifty (50) countries in Europe. A helmet that has an ECE 22.05 sticker is downright safe to use. It is a helmet that can save you in fatal situations. An ECE test is generally extensive. It measures the overall quality of the safety features that are integrated on helmets.
It tries to assess if the combination of particular components or design can improve your survival during road collisions and crashes. It also grades the quality of optics used in the face shields and other non-impact factors such as the rigidity of the material used on the shell.
Unlike its American counterpart, ECE requires cross-testing. This means that the helmets must be checked by different accredited third-parties before an ECE certification can be given to them.
Such a method eliminates the doubt of riders that the helmet that they bought is poorly made.However, keep in mind that the average crash speeds of motorcycles in Europe are relatively lower than in the United States.
This factor influences the overall scheme of the impact testing under the ECE 22.05 standard.
Explicitly, an ECE test incorporates a curbstone, which you can describe as a smooth anvil. Compared to the Hemi anvil (which is utilized in DOT and SNELL tests), the energy delivered by a curbstone is significantly lower. Furthermore, the impact testing of ECE only includes a single blow instead of the multiple conventional blows. You can say that an ECE testing scheme has lower energy grades compared to its counterparts.
Also, in an ECE test, there are specified fixed points that the technician can hit. You just don't hit anywhere.
On the flip side, DOT and SNELL require testers to hit the helmet on multiple parts.
PROS
Features extensive testing on every commercial helmet in Europe
Only allows low peak of energy (275 g is the maximum)
Includes a myriad of tests for different safety features that a helmet should have
Use eight head forms for a broader range of safety assessment and testing
CONS
The combination of curbstone anvil and single-strike rule creates an extremely low-energy testing mechanism; accordingly, such a rating is too low for areas that tolerate higher speeds on their roads
Strikes can only be done on fixed locations; as a result, it is very plausible to rig the test
Includes head form variation, which in turn, displaces the center of gravity during tests (it causes a reduced energy impact)
SNELL M2015
When it comes to motorcycle helmet ratings, the SNELL M2015 is considered to be the "granddaddy" of them all.
The entire helmet industry has excellent respects for the SNELL Memorial Foundation because of the gold standard that it had set when it comes to measuring the quality of helmet safety. Keep in mind that SNELL M2015 is not just an ordinary testing scheme.
Part of its assessment is the use of the edge anvil. The latter is considered to have the most aggressive profile among all the anvils that are used for impact testing.
Moreover, it also demands 275 g maximum transfer after two successive blows. The latter is extremely low, which indicates that it wants to measure how well the helmet will do during strong impacts. But of course, this is not surprising anymore.
SNELL ratings are crafted to meet the safety requirements of a racetrack. The presence of ease of removal and stability reflects this statement. ECE and DOT don't have these qualifications on their checklist. Another key difference that I can cite about SNELL testing and other testing standards is the full autonomy of the testers.
Technicians have full control over the test to ensure that they can inspect the helmets thoroughly. The technicians will hit different parts of the helmet until they are sure that the latter possesses the right energy management feature.
They can also do helmet autopsies, which allows them to examine the internal components of the gear (such as the EPS liner or Bluetooth Comm installed). My favorite bluetooth motorcycle helmet is safety rated by DOT.
Doing this allows the SNELL technicians to determine if there are weaknesses or flaws in the design of the helmet. In the past, the SNELL M2015 was under fire because it gave direct preference to EPS liners that are too rigid and hard.
Accordingly, the stiffness of the liners is actually promoting more force transfer during low energy impacts.
It is for that reason why there was several configurations made in this motorcycle helmet safety rating.
PROS
Extensive testing of helmets
Only the low peak of energy is allowed (only 275 g)
Features tests for helmet stability, ease of removal, and face shield rigidity against shattering
Highlights the use of edge anvils for impact assessment
Technicians have full supervision over the tests
CONS
Testing is expensive and takes a lot of time
Some are not convinced with the race-oriented testing mechanism of SNELL
Bottom Line
When it comes to motorcycle helmets, don't ever settle on the concept of "star rating is great." The keyword here is "safety," and you don't want your safety to be measured by superficial ratings given by unsolicited reviews.
When it comes to motorcycle helmet safety rating, the ones that you should rely on are DOT FMVSS 218, ECE 22.05, and SNELL M2015. The ratings that they give to helmets are not based on flimsy assessment.
Instead, they are ratings that are derived from a plethora of tests to ensure their structural reliability and level of protectiveness. Among them, you can say that SNELL M2015 offers the most reliable certification for their helmets.
A helmet that received a SNELL sticker can protect your head from high-impact crashes. It has a better assessment of the other features that motorcycle helmets should possess.
But of course, any helmets that have been rated under the DOT FMVSS 218 and ECE 22.05 are guaranteed safe.
You shouldn't have to sacrifice your personal safety in order to look good on the road either.
Every helmet in this list of the Top 50 Coolest Motorcycle Helmets is listed as DOT or SNELL Rated. Have a look.